About Event Jobs, Event Work and Event Volunteering with Hotbox Events
Event Jobs, Event Work and Event Volunteering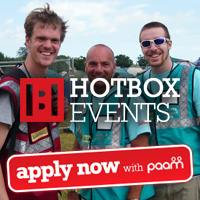 You can gain free entrance to this summer's best outdoor events and music festivals by applying for an event job to work with Hotbox Events' event staff and event volunteer teams!
Hotbox Events works with some of the UK's largest event organisers and festival promoters; recruiting and managing event staff and event volunteers.
Events we work with include the Latitude Festival, Reading Festival and Leeds Festival!
Our event staff and event volunteers play a big part in creating a great atmosphere at the events and helping the event goers to get the most out of their events. By applying for an event job you can work with the Hotbox Events' event team and help us to achieve this!
Event Work and Event Jobs
When Hotbox Events works onsite at an event the company has an event staff base of between 20 and 50 working with us depending on the size of the event. Hotbox Events' event jobs include:
Event Campsite and Arena Zone Supervisors
Event Office Administration staff
Multi-agency Event Control Room staff
Event Drivers - golf buggies, 4x4s and minibuses
Event Project Managers
Event Staff Supervisors
If you would like to apply for an event job with Hotbox Events as a paid member of event staff please apply online for the event job via Hotbox Events PAAM and then contact us.
For staff event jobs we look for relevant event work experience - this event work experience does not need to have been with Hotbox Events although if you have worked or volunteered with Hotbox Events at an event in the past this will help with your event job application.
Once you've contacted Hotbox Events about your event work application we'll ask you to forward your CV. If we have any event jobs available and appropriate to your event work experience we'll conduct an interview either over the phone or face-to-face.
Event Volunteering and Event Stewarding
For more information about volunteering at an event with Hotbox Events please select the event you're interested in:
You can apply to volunteer as an event steward online via Hotbox Events PAAM.
Hotbox Events uses the PAAM Event Management Software to recruit event stewards, event volunteers and event staff.
Volunteer at Festivals
Connect with Hotbox
About Hotbox Events