If you're looking for event jobs working at some of the UK's biggest events you can apply to join our event team!
Hotbox Events recruits and manages event staff and volunteers for some of the UK's largest events.
Our event staff and volunteers play a big part in creating a good atmosphere and helping the event goers to get the most out of their events. By joining the Hotbox Events team you can help us to continue to achieve this!
Applying to work at events
The easiest way to get involved with event work is to start by volunteering. Volunteering at events allows you to gain experience, make event contacts, and most importantly see if event work is right for you! As long as you're over 18 years old by the start of the events you're interested in, you can apply to join us. Many of our event volunteers progress to join us in staff positions once they have gained some experience working at events.
Applying to volunteer at an event is also the best way to secure your position with us, every year we receive hundreds of applications for the limited number of event jobs we have available.
You can find out more about applying to volunteer with us on our apply page.
Event jobs and work with our event staff team
When working onsite at an event we employ a team of between 30 and 50 event staff.
Our event jobs include:
Event Site Managers
Event Project Managers
Event Staff Supervisors
Event Arena Supervisors
Event Campsite Zone Supervisors
Event Office Managers
Event Multi-Agency Communications Control Staff
Event Buggy Drivers
Event 4x4 Drivers
Event Minibus Drivers
If you're not interested in joining us as a volunteer and only wish to show your interest in working with us as part of our paid event staff team please, email us via our contact page.
To apply for a paid event staff role, we will need to see your CV showing details of your experience and any relevant qualifications. When we begin the event staff recruitment process for the season - usually a month or so after we start recruiting volunteers - if we have a vacancy that we feel you may be suitable for a member of our event recruitment team will get in touch.
Should you be shortlisted, you will need to be available for an interview either over the phone or face-to-face.
When recruiting event staff we look for relevant festival or event experience - this doesn't need to have been with us but if you have volunteered with Hotbox Events at an event in the past this will help with your application.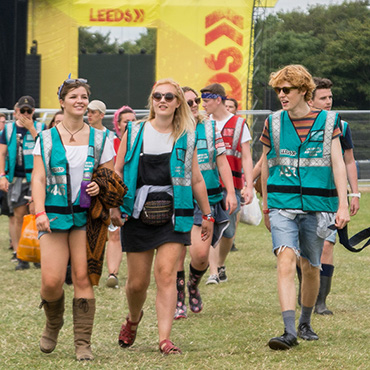 Carole and Steve
(Chartered Surveyor and a Parish Clerk RFO)
After being festival goers for a number of years, now the family has grown up and we have a little more time on our hands we decided to extend the festival experience by volunteering for a week at Latitude 2014 as CATs! We did not really know what we had let ourselves in for but we were so glad we did because our fellow CATs, supervisors and festival goers were absolutely lovely and great fun. It was so nice to see the relieved smiles on people's faces when we helped them to put up their tents they bought the day before! The festival goers we assisted and chatted to, made a point of coming up to us later in the festival (when we were off duty) to say thank you again and for a chat which was so nice. Latitude Festival was amazing as usual but what made it special was flashing our crew wristbands to get in and out of the arena so quickly, it really made us feel important (is that sad?). The mixture of age and enthusiasm of our fellow volunteers and staff just helped make the festival experience so fab - we wished we had done this years ago and we are definitely coming back in 2015!