How to Volunteer at Festivals and Volunteer at Events with Hotbox Events
Volunteer at Festivals and Volunteer at Events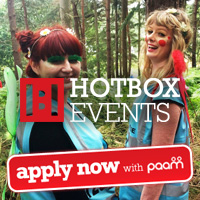 For a great summer festival volunteering experience apply to volunteer at festivals and volunteer at events with Hotbox Events!
We work closely with festival and event organisers, every year offering thousands of people the chance to enjoy some of the best festivals in the UK by volunteering their time!
To help manage our teams of festival volunteers we also employ paid event staff. If you're experienced in events and looking to get a bit more involved please visit our festival jobs and work page.
Festival Volunteer and Event Volunteer Feedback
At Hotbox Events we work tirelessly to make sure that each and every festival and event volunteer who works with us has a fantastic time and really enjoys their volunteering experience! We plan our festival and event volunteer shifts so every volunteer has a good amount of time off between shifts and at least one if not more nights off when the festival entertainment is on.
Many of our event staff return year on year so are well experienced in managing large teams of volunteers. When we employ new event staff we make sure they are well trained and capable of sustaining a supportive and enjoyable working environment for our festival and event volunteers. If you'd like to read some of the feedback we've received from our festival and event volunteers please take a look at our volunteer feedback page.
Feedback about our Festival and Event Volunteers
Thanks to our fantastic festival and events volunteers we've received a lot of great feedback over the years from festival promoters, event organisers and even the UK Police Force! If you'd like to read the feedback Hotbox Events has received about those who have applied to join us as festival volunteers and event volunteers please visit our event feedback page.
More about how to Volunteer at Festivals and Volunteer at Events
If you run a festival or event and would like more information about Hotbox Events' festival and event volunteers please contact us.
If you're looking to get involved with festivals and events and would like to find out more about working with Hotbox Events as either a member of our paid event staff or a as a festival and event volunteer please visit our event work page.
Volunteer at Festivals
Connect with Hotbox
About Hotbox Events