You can gain free entrance to the summers' best festivals by joining our festival team!
Hotbox Events works closely with festival organisers; recruiting and managing festival staff and volunteers for UK festivals.
Our festival staff and volunteers play a big part in creating a good atmosphere and helping the festival goers to get the most out of their festival experience. By joining the Hotbox Events team you can help continue to achieve this!
Applying to work at festivals
If you've not worked at a festival before, we'd recommend you first try volunteering with us. Volunteering is a great way to gain experience in the festival industry, enables you to add valuable skills to your CV, make festival contacts, and most importantly see if festival work is right for you!
Many of our festival volunteers progress to join us in staff positions once they have gained some experience working at festivals.
Applying to volunteer at a festival is also the best way to secure your position at a festival as we receive hundreds of applications each year for the limited number of festival jobs we have available at each festival.
You can find out more about applying to volunteer to work at festivals on our apply page.
Festival jobs and work with our festival staff team
When working onsite at a festival we employ a team of between 20 and 50 festival staff.
Our festival staff jobs include:
Festival Site Managers
Festival Project Managers
Festival Staff Supervisors
Festival Arena Supervisors
Festival Campsite Zone Supervisors
Festival Office Managers
Festival Multi-Agency Communications Control Staff
Festival Buggy Drivers
Festival 4x4 Drivers
Festival Minibus Drivers
If you're not interested in volunteering and only wish to be considered for a role as part of our paid festival staff team please email us using our contact page. A member of our festival recruitment team will then get in touch and request that you send through your CV showing details of your previous experience and any relevant qualifications.
When recruiting festival staff we look for relevant festival or event experience - this doesn't necessarily need to have been with us but if you have volunteered with Hotbox Events at a festival or event in the past this will help with your application.
When we begin the festival staff recruitment process for the year - usually a month or so after we start recruiting volunteers - we'll get in touch. Those shortlisted will need to be available for an interview either over the phone or face-to-face.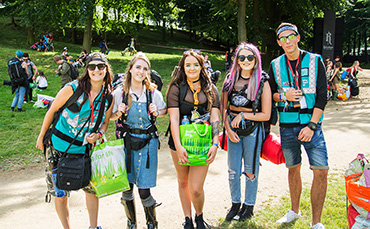 Daniel
Working for Hotbox has absolutely been an amazing experience and I'm definitely going to be signing up next year to not only do Reading, but also Latitude and Download! The staff were great and exceptionally helpful, and everyone I spoke to was in such a great mood. The shifts were also extremely exciting and helped to drown out the cold and wet weather at times!
One of the best points I would like to see again next year is the ladies who catered for the Hotbox camp. Their food was incredible, the ladies were so cheery and amazing to talk to and they knew how to brighten up anyone's day just by talking to them! They helped make an already amazing experience into an even better one!
Props to you all for coordinating and setting everything up on your end!
read more
Apply now to volunteer with us for an amazing 🎶 music festival 🎪 filled year you'll never forget ✨ #hotboxevents