About Us
Leeds Festival Jobs and Volunteering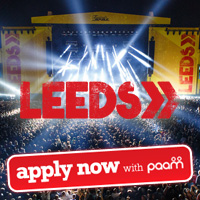 You can gain free entrance to this summer's Leeds Festival by joining our festival stewarding volunteers and festival event staff!
Our festival stewards, or CATs, work closely with Festival Republic and play a big part in creating a good atmosphere at the Leeds Festival - helping the festival goers to get the most out of their festival! By joining the Hotbox Events stewarding team as a festival volunteer or member of events staff you can help us to continue to achieve this!
How to apply online
You can apply to be a festival stewarding volunteer at the Leeds Festival online via Hotbox Events PAAM. The Hotbox Events festival application opens in early March each year. You can find the application guidelines via the PAAM login page.
The Hotbox Events PAAM festival stewarding application usually goes live in early March. If you don't already have a PAAM account please sign-up - we'll send you a message via PAAM when the festival stewarding applications go live each year.
We also let everyone know when the application goes live via Hotbox Events on Facebook, Twitter, the Hotbox Events News and Newsletter.
For more information about applying to work with us as a festival stewarding volunteer at the Leeds Festival please read the rest of this page and visit our Apply for Festival Jobs page.
Hotbox Events uses the PAAM Volunteer Software to recruit festival volunteers and event staff for the Leeds Festival.
Current recruitment levels
Leeds Festival staff and volunteer positions remaining: TBC for 2014
Leeds Festival staff and volunteer positions allocated: TBC for 2014
Info about recruitment levels
The figures above are a live feed direct from the Hotbox Events PAAM volunteer application.
If the "places remaining" figure above is very small (0-25) and you're able to apply via PAAM but not pay your deposit; this means we have filled all of the positions at the festival and the small figure shown is due to cancellations.
We usually reopen a festival to accept deposits once or twice each season to fill the openings created by cancellations. If you'd like to be the first to know when we reopen please apply via PAAM and we'll send you an email as soon as you can login and pay your deposit.
Application deadlines
All festival stewarding volunteers and event staff need to pass a PNC check before working with Hotbox Events at Leeds Festival. This will be completed by the UK Police Force once your position has been confirmed. Your personal details need to be sent to the police no later than 2 days prior to your first day working at Leeds Festival. If you have not applied and paid a deposit at least 2 days before the first day of the festival you will not be able to work with us at the Leeds Festival.
To apply you will need to
Be 18 or over on the date of arrival.
Be available to arrive at the Leeds Festival site by 12:00 (midday) at the latest on Wednesday 20th August 2014 (ESSID). You're welcome to arrive from midday on Tuesday 19th.
Be available for a briefing at 19:00 Tuesday 19th, 11:00 or 18:00 Wednesday 20th (the briefing you need to attend is shift pattern dependant).
Be available to work 3 x 8 hour shifts at any time between 09:00 Wednesday 20th (or 01:00 Thursday if arriving for the later briefing) and 16:00 Monday 25th.
Please note: when the shift preferences are available in PAAM, if you chose one of the shift patterns which include a Wednesday shift and are confirmed for this, you will need to arrive on the Tuesday (from midday) to be booked in and have your onsite briefing at 19:00 on the Tuesday prior to your first shift on the Wednesday.
Wear a festival tabard and crew top whilst working.
Report in every two hours to your staff supervisor or immediately in the case of any problems.
Produce documents to prove your right to work / volunteer in the UK.
Provide a refundable security deposit of £230.00 GBP.
Borders and Immigration - proving your right to work and volunteer in the UK
To work and volunteer at a festival or event with Hotbox Events you must have the right to work and volunteer in the UK. Under the Immigration, Asylum and Nationality Act of 2006 Hotbox Events is required by law to check your right to work and volunteer in the UK.
For further information please read the Borders and Immigration entry in the Hotbox Events FAQ.
Some info about festival steward volunteering shifts
Each festival volunteer works 3 x 8 hr shifts ONLY (24 hrs in total throughout the festival).
The first festival volunteer shift starts at 08:00 on the Wednesday before the festival weekend.
All festival volunteers are required to work one night shift.
The final festival volunteer shift finishes at 16:00 on the Monday after the festival weekend.
When off-shift all festival volunteers are free to enjoy the festival!
The festival volunteer shift times are: Early: 09:00 > 17:00, Late: 17:00 > 01:00, Night: 01:00 > 09:00.
You can apply to swap any shift you are allocated via your supervisor and we will try our best to accomodate your request.
We try to be as fair to everyone as possible when allocating shifts - all festival volunteers have at least one of the main event afternoons or evenings off.
The festival steward volunteer role can include
Assisting festival goers with directions.
Helping festival goers carry their belongings and pitch their tents.
Answering questions about performances and line-ups.
Reporting any problems e.g. a build-up of litter or faulty facilities.
Working with Fire Safety, Medical and Security teams.
Keeping an eye on the campsites from the fire towers.
Helping out with various roles across the festival site e.g. pedestrian and vehicle gates, wristband exchanges, keeping an eye on facilities, monitoring stages and walkways.
All festival steward volunteers are provided with
A Crew Pass when you arrive at the festival.
An Info Pack prior to arrival at the festival - this pack thoroughly details the festival stewarding role and responsibilities and provides information about the festival and the festival site.
A festival uniform - tabard and long sleeved crew top - the top you can keep to prove you worked at the festival!
Access to the crew café, toilets and showers!
Thorough on-site briefings.
Camping facilities in a secure crew area.
Time to enjoy the festival - you only work 3 x 8 hr shifts (24 hrs in total throughout the festival).
Following application
You need to send a deposit to secure your festival stewarding position(s). Your deposit needs to be paid after you have applied.
Paying a deposit does not guarantee your position at a festival; applications are assessed and positions allocated by a member of Hotbox Events staff after a deposit has been paid.
Positions are filled on a first-come first-served basis, following receipt of your deposit (the earlier you pay the more likely you are to get your first choice of shift pattern).
Generally, we only refuse applications for one of the following three reasons:
The applicant does not fulfil the criteria specified by the festival specific "about" pages on the Hotbox Events website - the sections titled "To apply you will need to".
If it is ascertained the applicant has previously been blacklisted by Hotbox Events or another festival staff or festival volunteer organisation.
The applicant fails a PNC check.
You only need to pay 1 deposit per year i.e. 1 deposit covers all festivals you would like to work at.
You can pay your deposit online via a major debit or credit card, or by posting a Cheque, Postal Order, Bankers Draft, or by making a BACS transfer.
You can find further details about paying your deposit within PAAM once you have setup an account.
Please read the Hotbox Events Terms and Conditions for further details about deposits.
The Hotbox Events Newsletter
If you haven't already please subscribe to the Hotbox Events Newsletter!
This way we can keep you updated - inform you when the festival stewarding applications go live each year, let you know when to expect your Info Pack and keep you updated with last minute festival changes.
We promise not to overwhelm your inbox - we generally send out no more than one newsletter per month.
Please check your email account regularly and check that your inbox isn't full - we receive HUNDREDS of notifications each month that email accounts are full!
Your email address will only be used for contacting you regarding working at events - under no circumstances will we sell, give away or otherwise divulge your personal information to anyone or anything.
The Hotbox Events community
You can chat with past and present festival stewarding volunteers via the Hotbox Events Forum.
You can find Hotbox Events on Facebook.
You can follow Hotbox Events on Twitter.
Take a look at the Hotbox Events festival stewards in action
Our event staff and festival volunteers share photos of their experiences via the Hotbox Events Galleries.
More Questions?
Please try the FAQ first, as your question/s may be answered in there!
For further information about the Leeds Festival please visit www.LeedsFestival.com
How to Contact Us
You can contact us here.
We look forward to hearing from you!
Volunteer at Festivals
Connect with Hotbox
About Hotbox Events