You joining us!
If you'd like to volunteer at some of the best music festivals in the UK you can find all the info you need and how to apply to volunteer right here!
Please choose a festival you're interested in volunteering at from the selection above, you'll then find all the info including when you'll need to arrive at the festival, how many volunteer shifts you'll do, how old you need to be to volunteer at festivals, the kind of things you'll get involved with when volunteering and loads more!
If you've not volunteered at a festival before and would like to find out more about what it's like before applying, make sure you checkout some of our staff and volunteer interviews! In the interviews you'll get to hear from volunteers who have joined us talking about how they found their shifts, how they were treated by the Hotbox team, what it was like volunteering for the first time on their own, taking on more responsibility year on year and progressing from a volunteer to staff role, and even how the experience and confidence gained has helped with their career progression away from festivals!
Us joining you!
If you would like more information about how our staff and volunteers can help at your festival or event please contact us!
What we do
Hotbox Events recruits and manages staff and volunteers for UK music festivals and events.
Our first event was Leeds Festival in 2003, since then we've grown from a small team of just 6 volunteers to recruiting and managing thousands of staff and volunteers every year!
Our Experience
Our management team has been recruiting and managing staff and volunteers for music festivals and events since the early 1990s.
We recruit and manage teams of up to one thousand staff and volunteers per event at our current events, working in arenas, campsites, on fire towers, gates and wristband exchanges.
Our Services
Our teams provide support and customer service to festival goers whilst working with other onsite agencies to help reduce crime and keep your ticket holders safe.
The key areas our staff and volunteers assist with include:
Working in campsites, arenas, on gates, fire towers, and wristband exchanges.
Our stewards are the eyes and ears of the event; trained to be proactive and alert to any potential problem.
Promoting crime awareness and crime prevention to the public.
Working with onsite teams to ensure medical, fire and security issues are dealt with promptly and safely.
Helping to prevent overcrowding and on hand to monitor crowd safety.
Assisting the public to create an environment where they feel safe.
Directing the public, assisting with ingress and egress to help the process run smoothly and effectively.
Supporting your ticket holders, providing information about the event including facilities and performances to ensure they have the best possible time at your event.
We've received fantastic feedback from festival organisers and even the UK Police Force! You can find some of the feedback we've received on our festival feedback page.
How we Recruit
We have over 20 years of experience recruiting staff and volunteers for festivals and events, and a current active database of over one hundred and twenty five thousand. Many of our staff and volunteers return to work with us year on year. When new staff are recruited for an event they each go through a full interview process either face-to-face or over the phone.
All staff working with us are under contract for the event, each is provided with a wealth of briefing and safety information pre-event, and full onsite training.
When applying to join us our volunteers agree to our volunteering agreement, and every volunteer is required to pay a security deposit to confirm their application and attendance before a position is offered.
We pride ourselves on both the service our staff and volunteers provide and the enjoyable working environment we create for them. You can find feedback from our volunteers on our volunteer feedback page.
Our Onsite Operation
We have a structured hierarchy when working onsite which allows for the management of large numbers of staff and volunteers.
We provide an onsite SMT allowing for experienced 24/7 management of the company and continuity in managerial communication for the festival organisers.
Working onsite to our SMT we provide:
Shift and Zone Supervisors - who directly manage the volunteers.
Office Staff - who deal with the administration of the company onsite and are often first point of contact for the volunteers.
Communications / Security Control Staff - who act as operation control and liaise with other agencies such as Security, Fire, Medical and Traffic.
Drivers - assist with the movement of the teams onsite.
Our History Working with UK Music Festivals
We've worked with festivals and events since the early 1990s, the first event our onsite managers were involved with was the 1994 Reading Festival.
Hotbox Events was founded in 2003, developed as a bespoke festival and event staff and volunteer recruitment and management company.
Working alongside festival organisers, Hotbox Events has helped to setup and develop the volunteer operations at some of the UK's largest music festivals.
Our director Mark Hatchard has also worked closely with festival organisers at Leeds Festival to help setup, recruit and manage the Zone Managers, setup and run the Campsite DJs, implement the zoned communications system and CCTV, and manage the Leeds Festival campsites.
Our staff and volunteers have a long history of working with festivals and events, so are trained and experienced in:
Working within a zoned site including structure and communications.
Working to and closely with Zone Managers, Security Supervisors and their teams.
Trained in standard reporting and procedures used across UK festivals and events.
More information
If you run a festival or event and are looking for more information about the service Hotbox Events can provide please contact us
see more
2019 🎶 @CampBestival 🎪 #festival #volunteer applications just opened ✨ #CampBestival Apply now! 👉… https://t.co/AeNhkR7xs0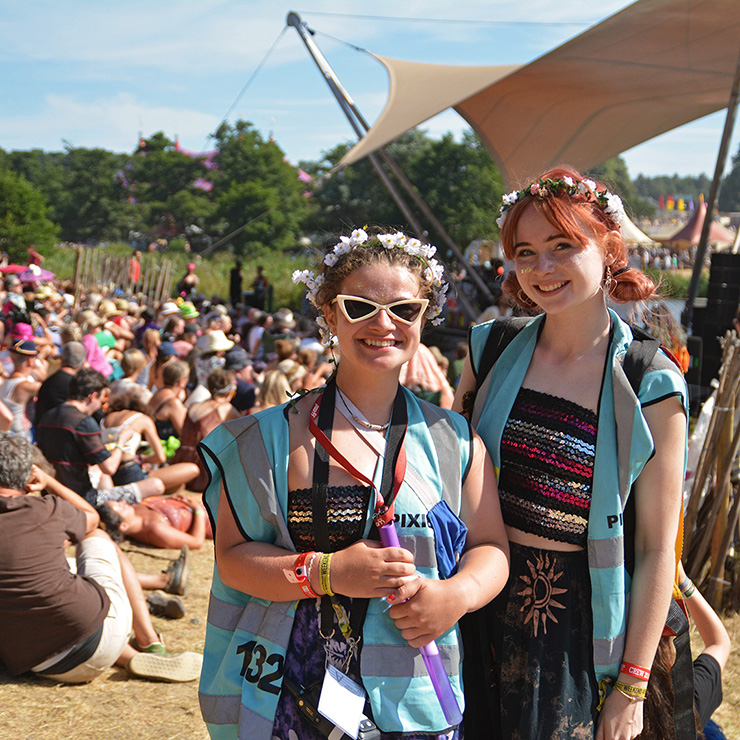 Hollie
(Journalism Student, University of Salford)
I had such a fantastic week and loved seeing the festival from behind the scenes. I made friends with fellow volunteers and will definitely be keeping in touch with all of them. The shifts were entertaining and passed by in a flash. Staff camping and arena access were an added bonus! I'm already counting down to August 2015 and I'd definitely recommend volunteering as opposed to just going to the festival. It's social, fun and free! Thanks Hotbox!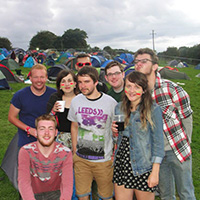 read more