How to apply to volunteer at the 2017 Download Festival
You can apply to volunteer at the Download Festival using Hotbox Events PAAM.
The Hotbox Events festival application opens in early February each year. You can find the application guidelines via the PAAM login page.
If you don't already have a PAAM account please sign-up - we'll send you a message via PAAM when the festival volunteer applications go live each year.
For more information about applying to volunteer with us at the Download Festival please read the volunteer information below.
Info about places remaining
The figures above are a live feed direct from the Hotbox Events PAAM volunteer application.
If the "places remaining" figure above is zero; you're able to apply via PAAM but not pay your deposit; this means we have filled all of the positions at the festival but we do expect to reopen to filled cancelled positions! If you can't apply then we do not expect to reopen again this year.
We usually reopen a festival to accept deposits once or twice each season to fill the openings created by cancellations. If you'd like to be the first to know when we reopen please apply via PAAM and we'll send you an email as soon as you can login and pay your deposit.
2017 Download Festival volunteering application deadlines
There isn't a specific deadline for Download Festival volunteer applications, we keep the application open until we fill all of the positions we have available at the festival.
The earlier you apply and pay your deposit the higher preference you will get when choosing your shifts so our advice is always apply and pay your deposit to secure your positions as early as you are able.
All festival volunteers and event staff need to pass a PNC check before working with Hotbox Events at Download Festival. This is completed by the UK Police Force once your position has been confirmed. Your personal details need to be sent to the police no later than 1 week prior to your first day working at Download Festival so even if we still have positions available the application will close 1 week before the festival.
To apply to volunteer at the 2017 Download Festival you will need to
Be 18 or over on the date of arrival.
Be available to arrive at the Download Festival site in good time for your onsite briefing (no later than 3 hours before your briefing) on Wednesday 7th June 2017 (ESSID). You're welcome to arrive from midday on Tuesday 6th.
Be available for a briefing at 19:00 on Tuesday 6th or 19:00 on Wednesday 7th (the briefing you need to attend is shift pattern dependant).
Be available to work 3 x 8 hour shifts at any time between 08:00 Wednesday 7th (or 01:00 Thursday if arriving for the later briefing) and 17:00 Monday 12th.
Please note: when the shift preferences are available in PAAM, if you chose one of the shift patterns which include a Wednesday shift and are confirmed for this, you will need to arrive on the Tuesday (from midday) to be booked in and have your onsite briefing at 19:00 on the Tuesday prior to your first shift on the Wednesday.
Wear a festival tabard whilst working.
Produce documents to prove your right to work / volunteer in the UK.
Provide a refundable security deposit.
Borders and Immigration - proving your right to work and volunteer in the UK
To work and volunteer at a festival or event with Hotbox Events you must have the right to work and volunteer in the UK. Under the Immigration, Asylum and Nationality Act of 2006 Hotbox Events is required by law to check your right to work and volunteer in the UK.
For further information please read the Borders and Immigration entry in the Hotbox Events FAQ.
Info about 2017 Download Festival volunteer shifts
Each festival volunteer works 3 x 8 hr shifts ONLY (24 hrs in total throughout the festival).
The first festival volunteer shift starts at 09:00 on the Wednesday before the festival weekend.
All festival volunteers are required to work one night shift.
The final festival volunteer shift finishes at 17:00 on the Monday after the festival weekend.
When off-shift all festival volunteers are free to enjoy the festival!
The festival volunteer shift times are: Early: 09:00 > 17:00, Late: 17:00 > 01:00, Night: 01:00 > 09:00.
You can apply to swap any shift you are allocated via your supervisor and we will try our best to accomodate your request.
We try to be as fair to everyone as possible when allocating shifts - all festival volunteers have at least one of the main event afternoons or evenings off.
Please head to our FAQ for more info about how volunteer shifts are organised
Volunteering at the 2017 Download Festival can include
Assisting festival goers with directions.
Helping festival goers carry their belongings and pitch their tents.
Answering questions about performances and line-ups.
Reporting any problems e.g. a build-up of litter or faulty facilities.
Working with Fire Safety, Medical and Security teams.
Keeping an eye on the campsites from the fire towers.
Helping out with various roles across the festival site e.g. pedestrian and vehicle gates, wristband exchanges, keeping an eye on facilities, monitoring stages and walkways.
All 2017 Download Festival volunteers are provided with
A Crew Pass when you arrive at the festival.
An Info Pack prior to arrival at the festival - this pack thoroughly details the festival stewarding role and responsibilities and provides information about the festival and the festival site.
Thorough on-site briefings.
A festival uniform (tabard).
Access to the crew café, toilets and showers!
Camping facilities in a secure crew area.
Time to enjoy the festival - apart from your 3 x 8 hour shifts you get to enjoy the entire festival for free!
Work experience in the event industry and an opportunity to learn new skills which looks great on your CV!
Volunteering can progress into paid staff opportunities with us or other organisations at future events.
Paying your 2017 Download Festival deposit
You need to pay a deposit to secure your place but you get this back at the end of the summer and one deposit covers you for as many festivals as you would like to work!
For further details about deposits please head to the Deposits, tickets and wages section of our FAQ.
Join the Hotbox Events Newsletter
If you haven't already please subscribe to the Hotbox Events newsletter!
This way we can let you know when the volunteering applications open each year, let you know when to expect your info pack and keep you updated with last minute festival changes.
Join the Hotbox Events community
Please head to our festival community to chat with past and present festival volunteers in our forum, find links to our social networks, check out our photo galleries and more!
More questions about volunteering at the 2017 Download Festival?
Please try our FAQ as most of the questions we're usually asked are answered in there!
How to Contact Us
You can contact us here.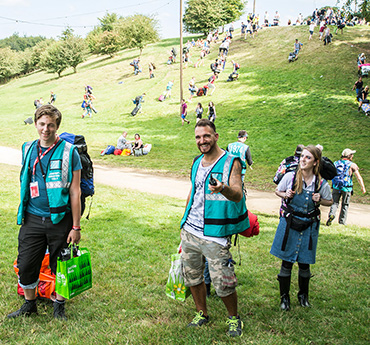 Kerry
(Fashion and Textile Management Student, Nottingham Trent University)
I worked as a CAT at Leeds Festival 2012 and it was of the best decisions I have ever made! Recommended highly by my friends who volunteered the year before. I was extremely nervous to join them this year as I'd never volunteered at a festival. Within hours we got chatting to a group camped next to us and immediately hit it off with some amazing people making our shifts extremely memorable. Working the festival and chatting to festival goers in white camp also gave me a massive confidence boost and I met some incredible people who I am still in touch with. I got to see my favourite bands for free, rave on a muddy slope with a group of mental festival goers, took a liking to Lambrini and lost my voice singing and jumping around in the crowds! Genuinely cannot wait for next year!