Volunteer at Music Festivals
If you'd like to volunteer at the best music festivals in the UK this summer you've come to the right place!
To find out more about volunteering at a festival head over to our about page and choose the music festival you're interested in volunteering at...
There you'll find lots of info including when you'll need to arrive at the festival, how many volunteer shifts you'll do, how old you need to be to volunteer at music festivals, the kind of things you'll get involved with when volunteering and loads more!
Watch interviews with our festival volunteers
If you've not volunteered at a music festival before and would like to find out more about what it's like volunteering at festivals before applying, make sure you checkout our festival volunteer interviews!
In the interviews you'll get to hear from volunteers who have joined us talking about how they found their shifts, how they were treated by the Hotbox Events team, what it was like volunteering at a festival for the first time on their own, taking on more responsibility year on year and progressing from a festival volunteer to staff role, and even how the experience and confidence gained has helped with their career progression away from music festivals!
Contact us to find out more about volunteering at festivals
If you've got questions or would just like to have a chat about volunteering at music festivals with us you can email or call
Or get in touch via one of our socials linked at the bottom of the page 🙂
see more
Holly and Hannah
Thank you so much for giving us the opportunity to work Leeds Festival 2013! It was an amazing experience and we can't wait to return next year to be CATs again. We made some amazing friends, saw all the bands that we wanted to see and had so much fun, even on shift! Thanks again, see you next year!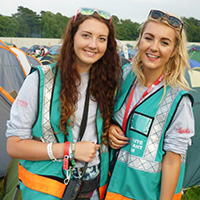 read more