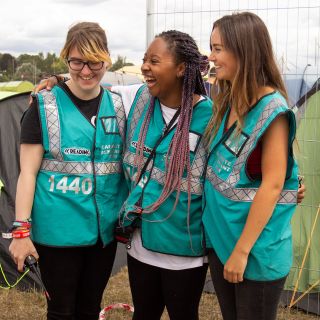 Have you read about Alex - the Reading Festival CAT living the dream? If not where have you been! If you follow the link below you can read all about Alex's exploits at the 2008 Reading Festival. See if you can spot the deliberate mistakes...
Alex the Reading CAT talks with the BBC
Alex is an experienced festival volunteer ready to jump in and get involved with all the tasks expected of a festival volunteer, helping carry bags, pitching tents and ensuring the safety and welfare of the general public while on shift and then enjoying the music and festival atmosphere.
Since returning from Reading and Leeds the feedback we've been receiving from you via our social channels and email about working at Reading and Leeds with Hotbox Events has been wonderful to read. If you enjoyed your week with us and have a few minutes to send over a paragraph or two for our staff and volunteer feedback page...
Please email this to info@hotboxevents.com
Please attach a photo if you can so this can be added to the Hotbox website too!
Your comments and feedback really helps those in future years get an idea of what working at a festival with Hotbox Events is like so please do get in touch if you can!
We're already planning for next year and your suggestions are always taken into consideration; many of which help us to improve both our service to the festival goers and the experience for our staff and volunteers. 
We hope to see you all again in 2009!