Festival Republic has asked Hotbox Events to bring the CATs & HATs to the Big Chill Festival!
You can find all the latest info about the 2010 Big Chill festival on the Hotbox Events website.
As this is a new event for Festival Republic many of the details are yet to be confirmed including:
PNC deadlines
Arrival date
Briefing times
First shift start time and date

The info above will be confirmed in early March 2010.

When the application goes live - if this information still hasn't been confirmed we advise you only apply to volunteer at the Big Chill if you are flexible when it comes to which day you will be required to arrive. If you need specific times and dates we advise you hold off applying until these have been confirmed.
In the meantime if you would like to find out more about the Big Chill Festival please visit the festival website.
You'll be able to apply to work at the Big Chill via the Hotbox Events PAAM Application.
As with applications for the Reading Festival/Leeds Festival and Latitude Festival - you only need to pay one deposit for all the festivals you would like to work at e.g. one deposit will cover you for Reading/Leeds, Latitude and the Big Chill!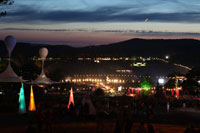 Please note - the Big Chill Festival isn't the new fourth festival we mentioned in the February newsletter - the Big Chill Festival is another new festival for 2010!
So, there may be five festivals on the 2010 Hotbox Events Calendar! We'll keep you posted!