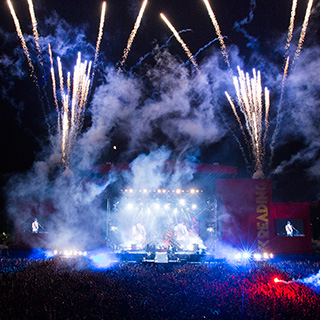 Reading Festival has asked for some extra volunteers at the 2016 festival so we've just turned the Reading Festival volunteer application back on!
If you'd like to join us at Reading but didn't get the chance to apply and pay your deposit before all places were filled earlier in the year, you can login to Hotbox Events PAAM to apply now!
We only have 50 extra places at Reading Festival and we expect them to go fast so if you'd like to join us please make sure you apply and pay your deposit ASAP as places are strictly first come first served!
Don't forget if you've already paid a deposit to volunteer with us at another festival you don't need to pay again as one deposit covers you for the entire summer!
If you have any questions about volunteering at Reading Festival with Hotbox Events in 2016 you can find lots of info on our website. Our Reading Festival Info page provides a wealth of info about volunteering at Reading. Our festival FAQs area is full of answers to questions we're regularly asked. In our festival forum you can chat with volunteers who regularly join us. If you'd like to have a look at some photos of the Hotbox team working at festivals, you can head over to our festival photo galleries!
If you have any questions about volunteering with us at Reading that aren't answered on the website, please get in touch!
Hope to see you at Reading in a few weeks!