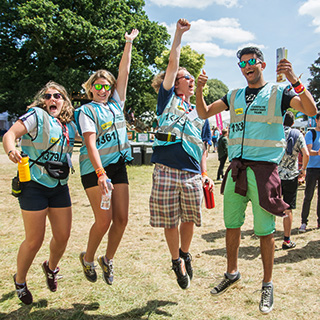 With the 2017 festival season fast approaching we're receiving lots of questions about volunteering at festivals with Hotbox Events this summer! If you haven't volunteered at a festival before, or you have but not with Hotbox, we've put together 20 reasons to volunteer at festivals with Hotbox Events in 2017!
We hope the below help to answer some of your questions about volunteering at festivals! If you'd like to join us at Download Festival, Latitude Festival, Virgin V Festival, Reading Festival or Leeds Festival you can apply here!
20 reasons to volunteer at festivals with Hotbox Events in 2017...
Free entry and lots of time to enjoy the festivals!
No waiting around for your confirmation, volunteer places are confirmed within 24 hours of us receiving your festival application and deposit!
Volunteer with your friends; just pop their names on your application form and we'll make sure you're all on the same shifts!
Only 1 refundable security deposit is required each year which covers you for as many festivals as you'd like to volunteer at!
Choose the volunteer shifts you'd prefer to work before the festival and we confirm these in advance so you know when you'll be working and can plan your festival schedule!
Meet like-minded people and make friends for life! Lots of our volunteers come on their own the first year and then return year on year with friends they've made volunteering!
We arrange volunteer shift patterns to ensure everyone has at least two nights off to enjoy the festival and can catch the headliners!
Volunteering is a great way to get a foot in the door to the festival industry and make valuable contacts; many of our volunteers progress to paid staff roles with Hotbox Events and other festival organisations each year!
No minimum number of festivals you need to volunteer at, join us for just one, or as many festivals as you like, it's totally up to you!
Your own private camping area, toilets, and showers!
If you change your mind about volunteering, you can cancel your volunteer place up to 20 days before a festival without any penalty!
Free festival parking close to your campsite!
Be a part of something special and make a difference! From humble beginnings in 2003 where we were a team of just 6 volunteers at Leeds Festival, our team has grown to over 3,000 volunteers each year and become a vital part of the festivals we work with!
Volunteering is great for your CV! Employers love to see varied experience and interests, especially when it shows you're willing to give something back by volunteering.
Access to our volunteer marquee with lights, tables, chairs, access to charging points, tea and coffee!
Learn practical skills that can benefit you in all walks of life, from first response to teamwork, organisation, problem solving and logistics.
Access to crew catering and discounted meals!
Volunteering at festivals is a great talking point in interviews, plus if you need a reference for a new job we're always happy to provide one!
Give something back to the festivals, our volunteers work together to ensure everyone has the best time possible at the festivals! At the end of an amazing week you'll travel home feeling proud of what you've achieved.
Last but not least, a fantastic time you'll never forget!
If you'd like to know more about volunteering at festivals with Hotbox Events in 2017 you can find lots of info on our website. If you have a specific question not covered by the above our festival FAQs are a great first port of call; we add to and update our festival FAQs every year to make sure answers to many of the questions we're regularly asked can be found in there!
If you'd like to chat with and ask questions of other volunteers, please head over to our festival forums. Our forums are also a great place to arrange lift sharing to the festivals to save yourself some money, help the environment, and get to know others before you arrive at the festival!
If there is anything you'd like to chat with us about, please don't hesitate to drop us an email, call the office, or get in touch via one of our social channels!
See you at a festival this summer!