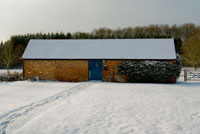 In early December 2009 Hotbox Events moved with it's sister company Hotbox Studios into its new offices! It's been a long time coming and a lot of work but we're very happy in our new home! There is still a wall of boxes to empty (we're not entirely sure what's in them all...), misc bits and bobs to arrive, including a fridge! Fortunately the frost and snow has been keeping our milk cold!
So it'll probably be well into the New Year before we can come into work without shuffling round a box or wondering why no matter how many pieces of bubble wrap you pick up the stuff still seems to be everywhere...
For those who need to get in touch, please find below our new address.
Office: Hotbox Events, Unit 1, Middle Yard, Home Farm Road, Hartley Wintney, Hampshire, RG27 8AW, UK.
Registered Office: Hotbox Events, c/o Ascot Drummond, Devonshire House, Manor way, Borehamwood, Hertfordshire, WD6 1QQ, UK.
Map: To see where Hotbox Events is based on Google Maps please click here.