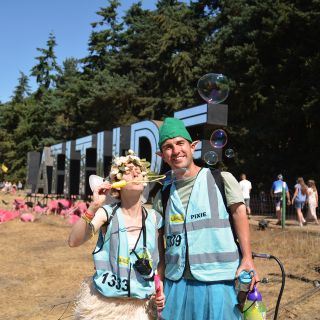 We only have 17 volunteer positions left at the 2013 Latitude Festival!
If you'd like to join us volunteering at the 2013 Latitude Festival please apply and pay your deposit ASAP! You can find out more about volunteering at Latitude on our Latitude Festival page.
After an incredible year at Latitude last year for both the festival itself and for Hotbox Events it's brilliant to see so many of you joining us again in 2013. Although it's not too surprising when you look at the line up for this year. With an eclectic mix of music and arts for all tastes we're looking forward to catching some of the big names on the Obelisk Stage, Kraftwerk's 3D concert promises to be quite the spectacle. Not only that but there's a stellar line up in the comedy tent this year, we're expected a packed house for Sean Lock and Dylan Moran.
If you do miss out we've got more positions available at the 2013 Reading Festival and Leeds Festival but both are also filling up quickly.
Reading Festival currently has 211 volunteer positions remaining (of a total 860).
Leeds Festival currently has 240 volunteer positions remaining (of a total 732).
If you'd like any further information about volunteering at a festival with Hotbox Events in 2013 please get in touch!
Don't forget to check out all our other bits of information available to you, about our festivals and volunteering with us. Our Forum is a great place to chat with other volunteers, share festival stories, ask questions and arrange lift shares too.
Our FAQs are also bursting with information, they contain all the essential stuff you need to know about joining us as a volunteer, what to expect on your shifts and also what you might want to think about packing to make your festival life a little easier!