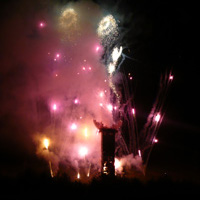 If you're heading to The Big Chill Festival with Hotbox Events this summer check out the 2011 Big Chill Festival Guide on the PAAM Event Management Software blog!
The guide talks about everything from the art to the music of The Big Chill, and provides an overview of areas such as the 'Chill Out Space' and 'The Enchanted Garden' - we're sure it'll help with your off-shift planning!
Last year's Big Chill saw it become the setting for it's very own artwork with Spencer Tunick creating a sight to behold with his naked art installation, You can read more about it and how Hotbox Events volunteers got involved here. As far as we know they all kept their clothes on. 
In the preview blog you can find out more about the hottest music tips at the festival and the sort of entertainment you can expect to stumble across once the main music acts have called it a night.
For those of you who take an interest in festival history you can also find out a bit more about the origins of The Big Chill and how it came to be a major UK festival.
We know there is more on the way from PAAM this summer including handy festival previews covering the Reading and Leeds Festivals so keep your eyes peeled! We'll let you know about it all via our news but if you'd like to be the first to know you can follow PAAM on Twitter and find PAAM on Facebook!