All at Hotbox Events would like to send their very best wishes for the festive period to everyone who worked with us at a festival in 2011! Please find below personal messages from Rob, Steph, Jo and Tavis...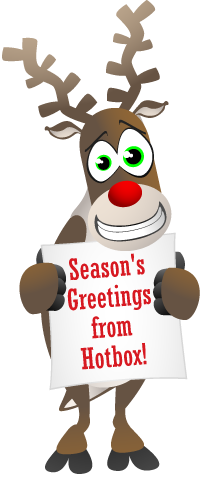 Winter has now well and truly set in so it's time to wrap up the 2011 festival season. I would like to thank everyone who worked with us over the summer; especially everyone who made the Big Chill run so smoothly. Your eagerness and enthusiasm are what makes Hotbox Events work so well. I hope you all have a Happy Christmas and great New Year. I'm looking forward to seeing you in a field next summer.
All the best,
Rob Donovan
Big Chill Festival Project Manager
Although I couldn't be with you all this year following the birth of my daughter in July, I have very much enjoyed the regular updates received from my colleagues and news that the Hotbox Events CATs and HATs have once again done a wonderful job at this year's events, helping to reduce crime levels and increase customer service as a whole.
I would like to take this opportunity to Thank Tavis for taking over the running of Latitude in my absence and also Gaz Evans for stepping into my role at Leeds; I very much look forward to returning next year.
I wish you all a wonderful Christmas and Happy New Year and look forward to seeing you all at events in 2012!
Best wishes,
Steph Newman
Latitude Festival Project Manager
Another festival season has passed and I hope now you are all getting ready to party on for the Christmas holidays. It was a fantastic year for Hotbox Events and all of you made this possible. It never ceases to amaze me just how strong a team we have, especially considering the weather in 2011 was the most unpredictable I have ever known! Thank you to Gaz and Adam for their endless support at Leeds and to all the staff involved that helped make this year's events run so smoothly.
Enjoy yourselves over Christmas and don't over indulge (not too much anyway) and I really hope to see all of you back with us next festival season and you bringing your friends along too!
See you next year,
Jo Shields
Leeds Festival Project Manager
Once again, another festival season is well and truly over, winter is kicking-in and I've just about recovered from a summer of great festivals!
This summer was a particularly busy one for me, as together with my usual role of preparing for Reading Festival I also took over the Latitude Festival duties from Steph Newman whilst she was on maternity leave... Thankfully, we had a fantastic team of volunteers at Latitude who all worked hard as Pixies, CATs, HATs, water distribution teams and campervan-out-of-muddy-field experts to help make the festival a great success.
At Reading Festival the weather conditions were again typically British, although at least we were on higher ground in the new crew area in White Zone! Yet again the team of volunteers didn't cease to amaze me on the hard work they put in on making the events friendlier and safer for the many festival goers.
A sincere thank you to everyone who came and volunteered or worked with Hotbox Events during the year... I hope that you all have a relaxing holiday and are able to join us again in the festival fields during the summer of 2012!
Kind regards,
Tavis Russell
Reading Festival Project Manager