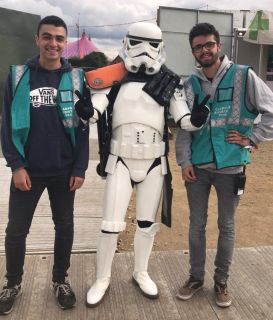 The Hotbox Events 2012 Reading and Leeds Festivals Beer and Bap Hand-out Volunteers Fact Sheet is now available for download in Hotbox Events PAAM!
Within the Reading and Leeds Festivals Beer and Bap Hand-out Fact Sheet and the additional documents the fact sheet directs you towards you will find contact, travel and arrival info, where and when you're expected to book in at the festival, info about passes, food, staff and volunteer briefings, emergency procedures, volunteer roles and responsibilities, security, health and safety and more!
All our volunteers at Leeds and Reading have been allocated to their shift groups, so if you are unsure of which role you are performing you will be allocated a to one of our CAT groups or one of our beer and bap groups. You can check which group you've been allocated to by logging in to your PAAM account.
Please make sure you read the Reading and Leeds Festivals Beer and Bap Hand-out and associated volunteering info packs before you arrive at the 2012 Reading and Leeds Festivals!
Please note that the main briefing for all Reading Festival Beer and Bap volunteers will be at 19:00 on Tuesday 21st August 2012. You should aim to arrive at the Reading Festival site no later than 18:00 on the Tuesday 21st. You're welcome to arrive from midday on Tuesday!
To view and/or download please:
Login to Hotbox Events PAAM.
Select the Reading or Leeds Festival Event Info button.
Read the PDF (downloads section).
Any questions, please contact us.