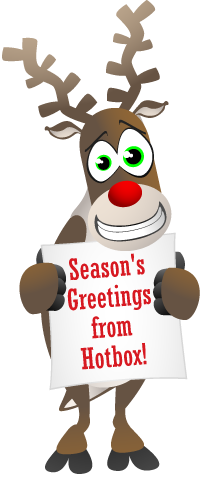 All at Hotbox Events would like to send their very best wishes for the festive season to everyone who worked with us at a festival in 2012! Please find below personal messages from Steph, Jo, Tavis and Rob...
2012 has been a busy year for all with addition of the Diamond Jubilee and the London Olympics to the event calendar, and what a year this turned out to be for Hotbox Events!
We all missed the Big Chill this year, but Latitude, Reading and Leeds Festivals certainly kept us busy.
This year was definitely our muddiest Latitude to date, but regardless of the weather conditions in July, it was a hugely successful week! We received endless comments from the organisers and from staff about the positivity of the Hotbox volunteers; battling the elements and putting up with the mud with a smile and a helpful attitude. Last minute changes kept us extra busy this year; I would like to personally say thank you to you all for such a positive and flexible approach to your role with us!
We were excited to be tasked with the last minute Beer and Bap hand-out teams for both Reading and Leeds this year, taking our staff and volunteer numbers to well over 600 at each event, no mean feat. The addition of the beer and bap hand-out operation proved to be a success and, for the most part of the week, the rain stayed away - which I know we were all grateful for.
The team at Hotbox Events are looking forward to exciting times ahead - bring on 2013!
Have a restful Christmas and a very Happy New Year to you all!
See you next year.
Best wishes,
Steph Newman
Another festival season has passed and what a fantastic one it has been with you all, it has been such a pleasure to meet every one of you and we cannot thank you enough for all your hard work and very much hope you join us for the 2013 events.
Enjoy your Christmas with your family and friends and have a very happy new year.
Jo Shields
We've reached that time of year when I sit back with a mulled beverage fondly reminiscing about the summer's festivals and I'd like to express my thanks to the great team of volunteers and staff that we had at this year's festivals - you all did a fantastic job and I hope that you enjoyed your time with Hotbox Events and can come back to join us again next year.
At Reading Festival this year there were several site changes and we held a number of different roles, including tower runners and beer and bap volunteers and it was great to see everyone stepping into these roles with plenty of energy and smiles proving that Hotbox Events' volunteers can tackle any task allocated with fervour.
I would like to pass on a big thank you to everyone who volunteered or worked with Hotbox Events during 2012 - I wish you all a great holiday and look forward to working with you at the festivals again next summer - it's not long to go until the applications open again in March!
Kind regards,
Tavis Russell
The cancellation of the Big Chill was sad, the request for loads of people to hand out free beer and baps was mad but everyone worked so hard and helped that the season just gone, I would say, was our most successful season yet. So I would like to take this opportunity to wish all the volunteers and staff that I worked with a happy Christmas. Hope to see you in the summer where we can get away from the cold and back to playing our part in putting on some of the best festivals in the world.
Rob Donovan