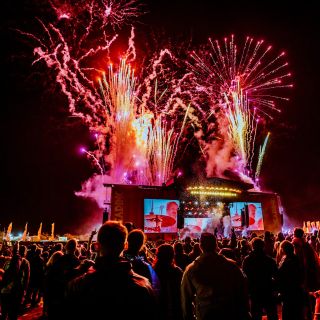 With the 2012 Reading Festival and 2012 Leeds Festival only days away all at Hotbox hope you're looking forward to working with us!
We certainly can't wait to be there, especially with such an amazing line-up set to wow this year's crowds. It's going to be a weekend to remember that's for sure.
Leeds lads the Kaiser Chiefs will be kicking things off on the Friday at Leeds and then warming the masses ready for the almighty Foo Fighters to take the stage and end the night with a bang!
Saturday at Leeds sees pop-rockers Paramore kicking things up a gear and getting everyone jumping ready for legends The Cure, who will be appearing on the Reading stage on Friday evening
And just as you thought things couldn't get any better, Leeds Festival finishes off with a trio of killer acts in Enter Shikari, Florence and the Machine and  Kasabian, who'll be playing Reading on the Saturday.
Many of you will have lots of free time when you're not working to enjoy everything the Reading and Leeds weekend has to offer. In case you've not had a chance to peruse the festival line-ups head over to the PAAM Event Software Blog and checkout the cracking 2012 Reading and Leeds guide they just posted:
2012 Reading and Leeds Festival Guide and Preview
See you at Reading and Leeds in a few days!