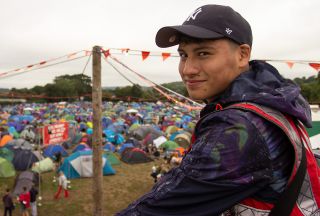 You can now login to Hotbox Events PAAM and choose your festival volunteering shift preferences for the 2012 Reading and Leeds Festivals!
To choose your shift preferences you need to:
Login to Hotbox Events PAAM.
Select the Reading Festival Event Info button.
Read the Shift Planner (Shift/Group Details).
Choose your Shift Preferences (Shifts/Groups Available).
Click Save Preferences!
We plan to allocate 2012 Reading and Leeds Festival shifts the week beginning Monday 30th July so please make sure you choose your festival volunteering shift preferences by Monday 30th!
Please ensure that you read the shift planner thoroughly before submitting your preferences as it explains in detail, the timings of each shift which is particularly important when understanding the timings of night shifts.
Don't forget that we allocate shifts based on the date your deposit was paid rather than the date your shift preferences are submitted, so don't worry if you're not able to submit them straight away you won't lose out but you do need to submit them before the 30th of July.
Once your shift pattern has been allocated it will be displayed on your overview page!
Any queries please contact us!