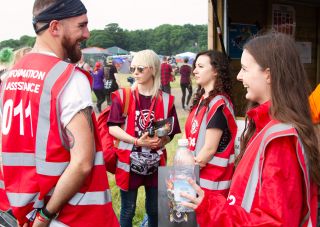 Due to cancellations we have just reopened the Reading Festival, Leeds Festival and Big Chill Festival to new applicants!
If you have already applied to work with us in 2011 - to join us all you need to do is login to your Hotbox Events PAAM account and pay your deposit!
If you don't yet have a PAAM account you can still apply by signing up here.
You can find out more about working at the Reading Festival, Leeds Festival and Big Chill Festival by heading over to the 'About' pages for each festival. Here you can find various information about each festival such as where the festival takes place, when you would need to arrive and how long you can expect to be there for. You'll also find further details of each of the different volunteering roles available at each festival.
Many of you who have joined us previously will already be aware of the Hotbox Events Forum, for those of you who are new to volunteering at music festivals with Hotbox, we highly recommend heading over to our forum, where you'll find hundreds if not thousands of our current and previous volunteers chatting about their festival experiences, arranging meet-ups and planning who they'll be camping with in the Hotbox Events staff compound.
There are a very limited number of positions available so please do apply and pay your deposit ASAP if you would like to join us!
If you have any questions - please get in touch!