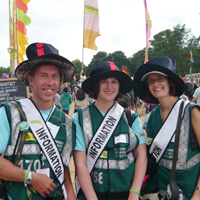 The sun is out and Hotbox Events is now 50% full for festival volunteering 2012 positions at the Latitude Festival, Reading Festival and Leeds Festival!
Thank you to all who have applied to volunteer with us at a festival in 2012 so far!
Please remember that to confirm your 2012 festival volunteering position you need to pay your refundable security deposit via Hotbox Events PAAM.
We do still have some positions available and you can keep an eye on how many festival volunteer and event staff positions are left on each festival's 'About' pages
If you have any questions about festival volunteering the Hotbox Events Forum is a great place to start - you can find both new volunteers and many who have volunteered with us for many years in the forum.

If you'd like to see what our festival volunteers get up to you can visit the Hotbox Events festival volunteering photo galleries where you can find lots of photos from previous Latitude, Reading and Leeds Festivals!
You can find more information about working at the festivals on our festival jobs and festival work page.
If you would like to talk with someone about working with Hotbox Events at a 2012 music festival please contact us.